MBBS Abroad For Indian Students
UV Gullas College of Medicine
Cebu city is the best to study MBBS abroad.Cebu city is the most ancient yet a most developed 1st class city of Philippines. TripAdvisor named Cebu the only Philippine City to make in the Top 25 list for best destinations. The Cebu city's infrastructure is quite developed with numerous ultra-modern shopping malls, tall buildings & one of the best airport. It's surrounded by wonderful mountains and islands. More than 15 Indian Restaurants are there in Cebu City catering delicious Indian food. There are Indian Temples too. Cebu city is a developed, peaceful and safe city.It has eleven large universities each with a number of colleges
With many beautiful islands, white sand beaches, luxury hotels and resorts,
TripAdvisor named Cebu in the Top 25 list for best holiday destinations.
Cebu City is often called the "Queen City of the South".
For Indian students who are unable to gain admission to Indian medical colleges, MBBS in abroad is the safest and most suited choice. Top medical universities in foreign countries offer Indian medical students a learning atmosphere in which they can become exceptional doctors. Such colleges have better facilities and provide Indian students with international exposure that is difficult to find in India.
MBBS Abroad For Indian Students
MBBS is a widely sought-after education in India, particularly among class 12 science graduates, as it is one of the most respected and wanted career possibilities. Not only are medical professionals well compensated, but they also have the opportunity to make a significant difference in people's lives.
Despite the fact that India has some of the greatest medical colleges and a strong market for the subject, the number of students applying to study MBBS abroad has surged in recent years. The rising desire for MBBS education overseas could be related to the fierce competition in government medical colleges and the extravagance of private institutions.
Students have realized in recent years that even if they do not acquire a coveted seat at one of India's medical colleges, they can still pursue their dream of studying MBBS at a university abroad. MBBS abroad for Indian students at moderate costs, as opposed to the exorbitantly high costs found in India, is one of the primary reasons. In reality, several medical colleges abroad are known to have lower MBBS costs than private medical colleges in India. There are no hidden fees at the time of admission, and those overseas MBBS colleges are also recognized and approved by the NMC.
Infrastructure @ UV Gullas College of Medicine
The UVGCM offers top class infrastructure, quality education with experienced Faculties. It is the best destination to study MBBS abroad if you want high quality education at low fees. The main campus in Cebu City is a multi-storied building that is equipped with several facilities for the students. Clinical training is imparted by a highly-trained and experienced faculty who have demonstrated capabilities in their respective fields.
The University maintains the most advanced medical facilities. Study MBBS abroad becomes easier with a well-balanced learning environment. It possesses an array of medical buildings complete with advanced educational facilities and seamlessly integrated with its own training hospital.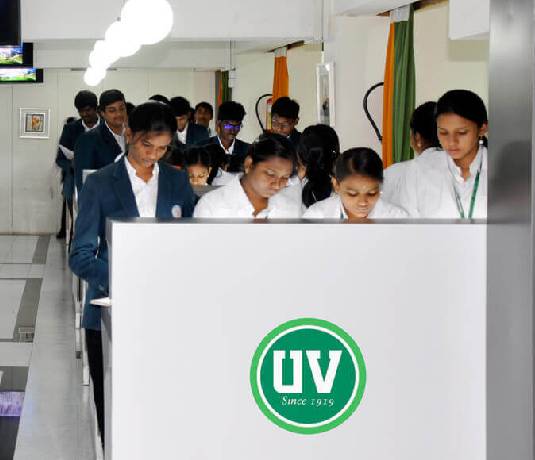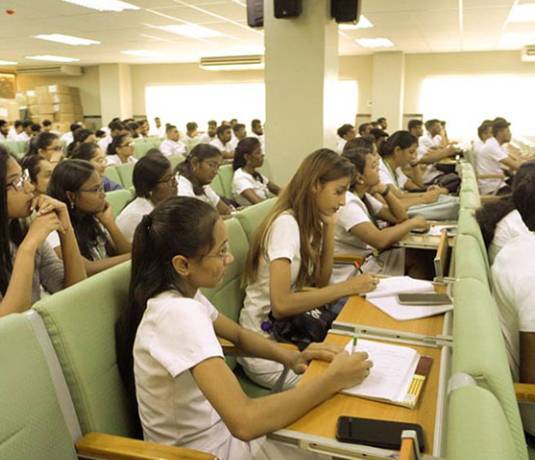 The state-of-the-art labs and academic expertise UVGCM received recognition by several boards. According to American Physician Statistics, one among ten doctors in the USA studied at Philippines. UVGCM is No. 1 international provider of physicians practicing in America.
State-of-the-art library, laboratories, digitally equipped modern classrooms & team learning centre are part of educational infrastructure in UVGCM. Cadavers (dead bodies) are vital for the interpretation of knowledge. The availability of cadavers is considered to be a highlighting feature of UVGCM. Most Philippines medical colleges and in other countries offer plastic bodies which WHO and NMC do not recommend. UVGCM offers sufficient cadavers for students to gain better medical exposure.
190+ Medical Residents and Clinical Rotations from the Philippines.
84% USMLE (step 1) first-time pass rate of students from 47 countries.
54+ affiliated clinical hospitals in the US, UK, CANADA, AUSTRALIA, NEW ZEALAND.
Indian students from UVGCM have 91% success rate in the MCI screening test.
University of Visayas (UV), a 100 years old educational establishment has 500+ experienced teaching and non-teaching faculty in over 30+ Campuses.
UV has already set a benchmark in academic excellence by continuously delivering top and matchless results in International competitive examinations.
Special additional coaching is arranged for Indian students to prepare for FMGE (MCI) exam during their 3rd year and Final year. Top leading medical experts specialized in medical subjects guide students who study mbbs abroad to prepare for the NEXT exit exam in India. It has been a proven methodology where most students graduating as doctors from this Philippines MBBS university clear their exit exam in their 1st attempt.
While medical graduates from countries like Russia, China, and Ukraine struggle to clear FMGE exams after multiple attempts, more than 80% of graduates from the UVGCM easily clear the exam in the first attempt. This has been a major reason for most students getting attracted to admission in UVGCM.
Exclusively for Indian students, fully equipped and fully furnished ultra-modern air-conditioned hostels are provided in the college campus itself. There are separate hostels for boys and girls at UVGCM hostel. The 24/7 security vouches for the safety of our students. The environment in UVGCM hostel is always kept conducive to learning & academia.
There are more than 50 staff members, including Indian staff. A dedicated liaison officer is available to take care of students' visa renewal, food card, insurance renewal, etc. Students can reach International Students Unit for any queries & emergencies at any time.
The hostels in UVGCM have high-speed internet for students for their projects and assignments. A dedicated housekeeping team deployed to clean the rooms and washrooms regularly. Every room is sanitized with disinfectants regularly to ensure students are living in a healthy environment. All rooms have a comfortable living room with all needed amenities for International students. Clean drinking water is accessible through a water purifier with RO.
Indian Cooks in the hostels prepare authentic Indian food. Breakfast, lunch & dinner are provided. We offer a wide variety of delectable and quality dishes that satiates an engaged and studying brain. There are both North Indian and South Indian dishes available three times a day. Traditional ethnic Indian food is served to fulfil the desire for home food. Numerous Indian restaurants surround the college campus.
Why UV Gullas College of Medicine?
Topmost medical college in Philippines with affordable fee structure
More than 4000 bed strength hospitals attached
Approved by MCI, WHO, CHED, USMLE, FAIMER
The innovative and research-based learning methodology with US based syllabus
Robust practical problem based learning.
Flexible suitable fees payment options available.
UVGCM is approved by National Medical Commission (NMC) of India.
There are 5 major hospitals, including a government hospital affiliated with UV Gullas College of Medicine, where international students visit during their final year internship. Students attend patients with a variety of diseases where they gain actual clinical knowledge. The students are freely allowed to assist senior surgeons in major surgeries that helps to gain a better understanding of clinical knowledge.
These factors give UV Gullas College of Medicine a badge of the best institution to study MBBS abroad for Indian students at affordable fees.